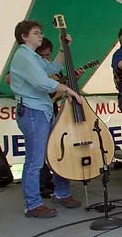 Beth White plays the mandolin-bass. (photo by Jim Dirden)
Here the Blazing Bows perform at the
Old Settlers Music Festival
. Notice the unique mandolin-bass in the left background. Beth White, playing the bass, is one of Bill Branch's guitar students who decided to learn upright bass. Her mother, Rose, built the mandolin-bass (renaissance-style) from plans she found on the internet.
Today, Beth has a music degree in Celtic and jazz on guitar, mandolin, and bass. Just think! We knew her when...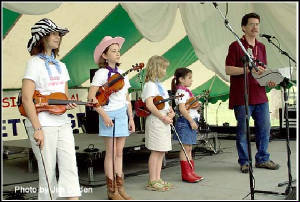 The Fiddle Chicks -- Old Settlers Music Festival Youth Contest
Some of Mary's kids participate in the youth talent contest at the
Old Settler's Music Festival
in April 2003. They did not win, but they did place, and they learned a lot to prepare them for next year's contest.
"Off Center" is an outgrowth of older students from Mary Hattersley's violin fiddle program and Bill Branch's guitar program. Here they play on a stage nearly suspended over a cliff over Lake Travis at a restaurant (with a wonderful view) called the
Iguana Grill
.
Watch out for them in the future. They have already recorded their first CD of original material, and it is pretty darned good -- especially for a first attempt.
"Off Center" -- [talk about playing on the edge!!]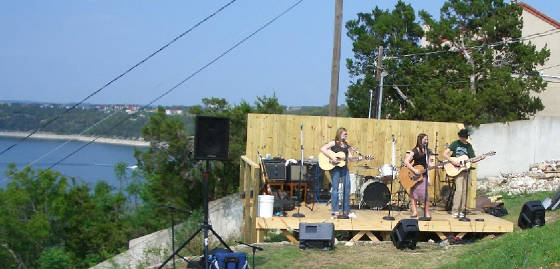 "Off Center" -- students from both Mary and Bill Branch's music programs (2006).